Three Ways to Create Happiness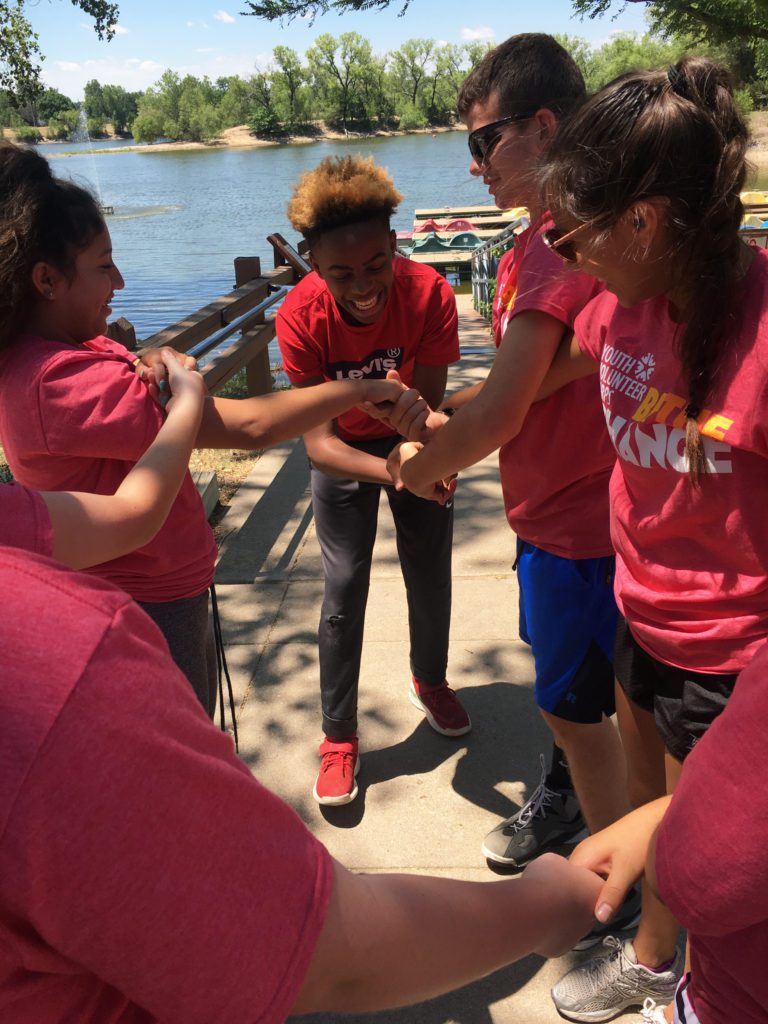 Finding happiness is a hot topic right now. Everywhere you look there is a new self-help book, television show, or presenter who wants to help people discover how to do this. That being said, the best ways of finding happiness are actually opportunities where we can create happiness in our lives.
Working with a youth service program, I am constantly reminded that we have the power to change and improve communities through our own actions. In fact, YVC's International Youth Advisory Board selected the word "Empower" for their summer shirts this year and defined it as, "Taking action to lift others up and meet their full potential."
Why should it comes as a surprise that this same way of thinking can create positive change in our own lives too?
Rather than seeking happiness, we can feel empowered to create happiness in our lives and in the lives of others. The thoughts expressed here are not unique. They are echoed in the lessons we have learned since childhood and have been shared by many thought leaders. The following are things we can all do, and they generally don't cost anything. YAY! What's better than FREE happiness?
Express (and Receive) Gratitude
At first, it may feel a little uncomfortable to tell people how they have impacted you. If expressing gratitude is challenging, think about ways to work yourself up to telling people about their positive influence on your life. I was reminded by a youth volunteer in our network recently, that this takes practice – just like everything else. Start with small things like journaling, sending yourself an email reminder of something positive, writing a short letter (even if you don't send it!), or even just thinking about a moment when someone made you feel better about yourself. Then find a way to remind other people of the gifts they share with you and their community.
Receiving gratitude can be equally hard. Practicing the ability to say thank you might sound funny, but allowing yourself to receive and not deflect gratitude is an important step in creating happiness.
Don't take it from me: Enjoy this video from SoulPancake on gratitude and happiness.
Be Mindful
The idea of being in the moment and experiencing it fully can be found in everything from exercise to cooking to travel to reading to—well you can add just about any other experience here. However, this is much easier said than done. We are primed to always be planning for the future, and we spend a fair amount of our life gaining skills and experiences that are meant to propel us forward into new things. We don't often do something just for the experience.
Why not? Why can't we just say "I am taking a walk to enjoy a walk," instead of "I am taking a walk because it is a healthy thing to do, and we should all find healthy things to do." Then, while on said walk, we plan our day, catch up on social media, and read texts from friends. All of these activities may feel natural, but learning to tune them out can be a fun way of training your brain to have a little downtime. Next time you take a walk, encourage yourself to think about each of your senses. What are you smelling, hearing, seeing, feeling, and even tasting?
If you need a little help, there are countless apps and trendy tricks that can help get you in the moment. My favorite one recently has been watching people record one second of each day with the intent of stringing these moments together at the end of the year. They consciously select one favorite moment to savor and share. Take your pick and enjoy finding your moment.
Don't take it from me: Enjoy this article from The Ladders talking about Yale's class on happiness and learning to savor more.
Engage in Service
In a world where we increasingly hear about people feeling lonely and depressed (and sometimes we are the person feeling lonely and depressed), it is important to find ways to connect with others.
Did you know that in a recent independent study, youth who participated in Youth Volunteer Corps (YVC) programming scored 98% higher on understanding the needs of their community and 75% higher on taking action to meet these needs? Understanding the needs of others can often help us to understand our own needs better. We also feel good when we know we're helping others. In this way, service is a win-win for everyone involved!
Service allows us to practice both gratitude and mindfulness while helping others and growing personally. THIS is why volunteering can be considered the ultimate act of creating happiness.
"YVC has helped me gain the confidence to go out into the world and make new friends and try new things. It has really made me a better and happier person." –Christian, O'Neil, YVC volunteer from Alpena, MI
Don't take it from me: Enjoy this article from HuffPost on health benefits of volunteering and this one from the Harvard Health Blog on the body and mind benefits of volunteering.
---
Youth Volunteer Corps Service
If you are interested in learning more about volunteering in your community, the goals and program standards that make us unique, information about youth building life and career skills through YVC programming, or you simply want to donate, we invite you to check us out online at yvc.org.
Keep up with YVC news and subscribe!