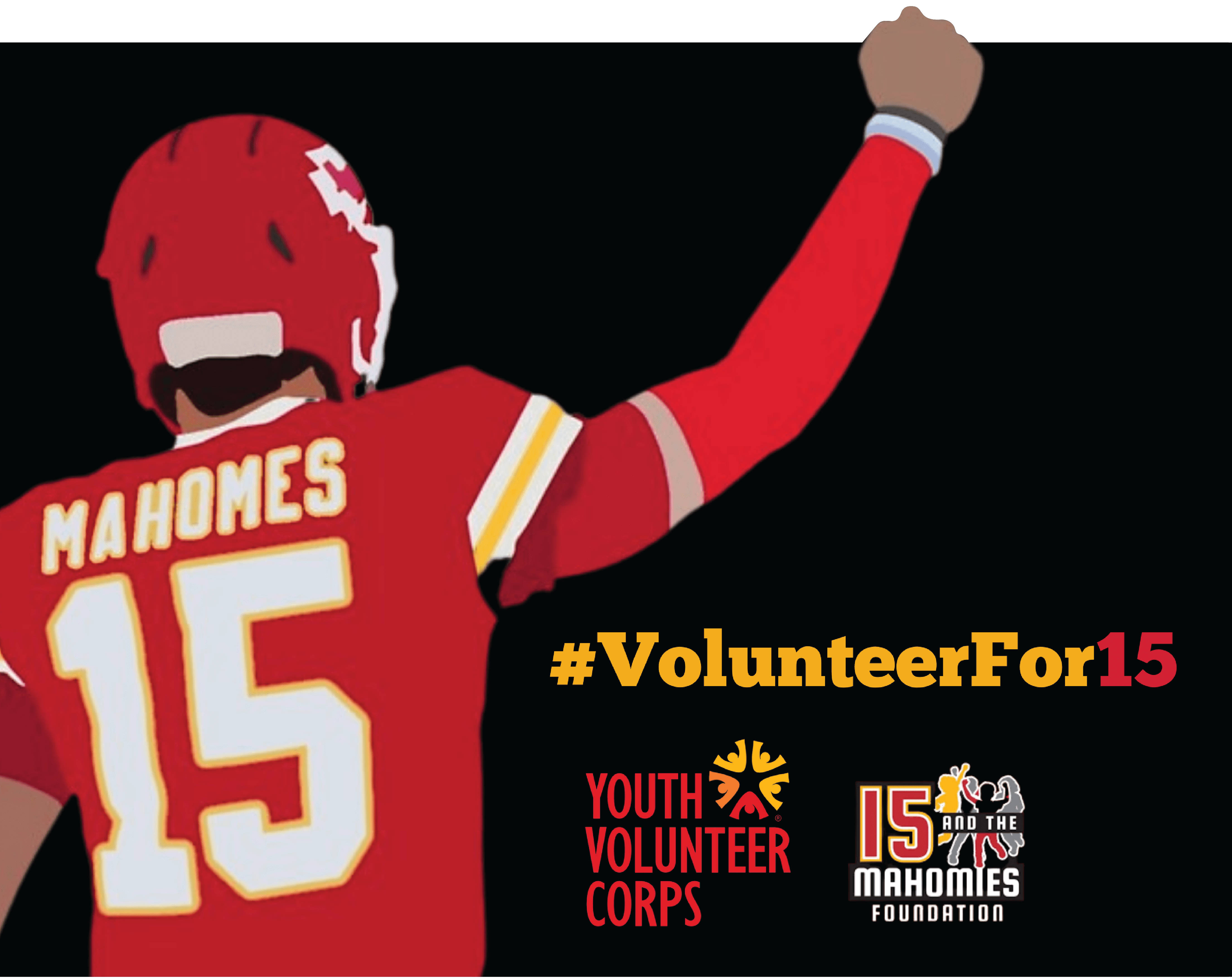 Take the Pledge!
15 AND THE MAHOMIES AND YOUTH VOLUNTEER CORPS
LAUNCH "VOLUNTEER FOR 15" PROGRAM FOR SECOND YEAR
April 13, 2023 (Kansas City, Mo.) – Kansas City Chiefs quarterback and Super Bowl LVII MVP Patrick Mahomes II and his foundation, "15 and the Mahomies" are partnering with Youth Volunteer Corps (YVC) for the second year to launch "Volunteer for 15," a program encouraging youth ages 11-18 to volunteer at least 15 hours between May 1 and August 31.
The "Volunteer for 15" program aims to inspire young people to positively impact their communities through volunteerism. Through YVC, youth develop valuable skills and gain a sense of empowerment and fulfillment through serving others.
"We're excited to partner with Youth Volunteer Corps again this year for the 'Volunteer for 15' initiative," said Patrick Mahomes. "Last year, youth who participated volunteered a total of 12,844 hours in their communities and really made a difference."
The 15 and the Mahomies Foundation was established in 2019 by Patrick Mahomes and his wife, Brittany. The foundation is dedicated to improving the lives of children through initiatives that focus on health, wellness, underserved communities, and other charitable causes.
"Patrick is such a great role model for our youth, showing them how to give back to their communities because he does it himself," said Tracy Hale, CEO of Youth Volunteer Corps. "He is truly inspiring the next generation of leaders."
Participants who complete at least 15 hours of volunteer service will be eligible to receive a "Volunteer for 15" unique item and certificate of completion. Participants can also win prizes, including autographed merchandise from Patrick Mahomes and tickets to a Kansas City Chiefs home game.
Success!
Take a look at what Patrick Mahomes and Marques Fitch, Executive Director of the 15 and the Mahomies Foundation, had to say.