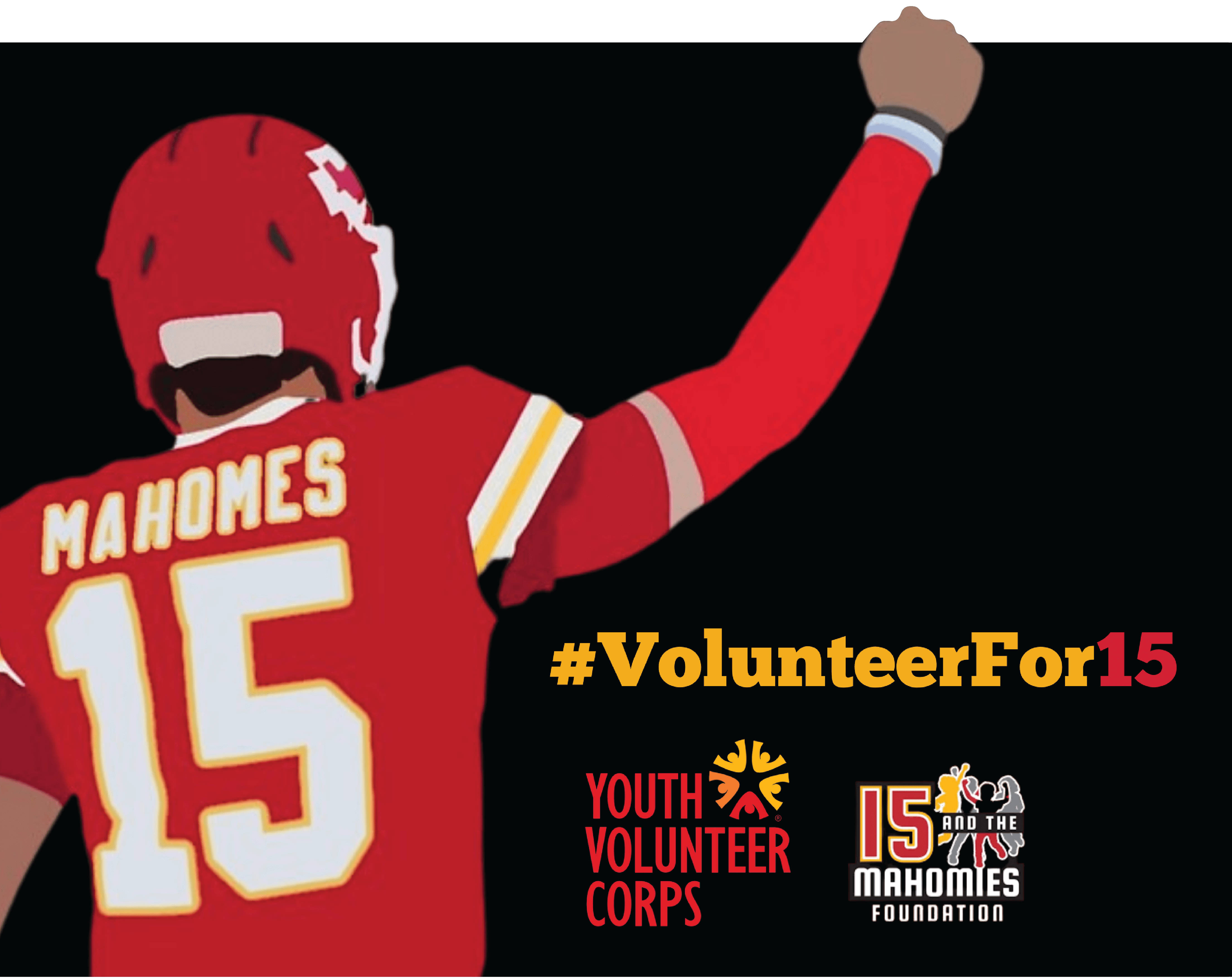 Take the Pledge!
YOUTH VOLUNTEER 22,764 HOURS IN "VOLUNTEER FOR 15" CHALLENGE THROUGH PARTNERSHIP BETWEEN YOUTH VOLUNTEER CORPS AND 15 AND THE MAHOMIES FOUNDATION
September 5, 2023 (Kansas City, Mo.) – Kansas City Chiefs quarterback and Super Bowl LVII MVP Patrick Mahomes II and his foundation, "15 and the Mahomies" are partnering with Youth Volunteer Corps (YVC) for the second year to launch "Volunteer for 15," a program encouraging youth ages 11-18 to volunteer at least 15 hours between May 1 and August 31.
The "Volunteer for 15" program aims to inspire young people to positively impact their communities through volunteerism. Through YVC, youth develop valuable skills and gain a sense of empowerment and fulfillment through serving others.
"I am so impressed by these kids and the impact they're making in their communities." said Patrick Mahomes. "I'm proud of each of them for taking the Volunteer for 15 pledge and giving back at such a young age."
Courtesy of Patrick and an anonymous donor, the top two Volunteer for 15 youth who served the most hours will receive either an opportunity to attend a Chiefs home game this season or an autographed football from Patrick.
This is the second summer for the Volunteer for 15 program. This year, youth volunteered 22,764 hours between May 1 and August 31. From last summer to this summer, there has been an 86% increase in involvement, which indicates the Volunteer for 15 initiative has been a huge success.
"We are thrilled by the response to the Volunteer for 15 challenge," said Youth Volunteer Corps CEO Tracy Hale. "We anticipate the program growing each summer and are always excited to see what the youth will accomplish in their communities through Volunteer for 15."
Success!
Take a look at what Patrick Mahomes and Marques Fitch, Executive Director of the 15 and the Mahomies Foundation, had to say.