Youth Volunteer Corps Celebrates Volunteers and Leaders at Summit 2019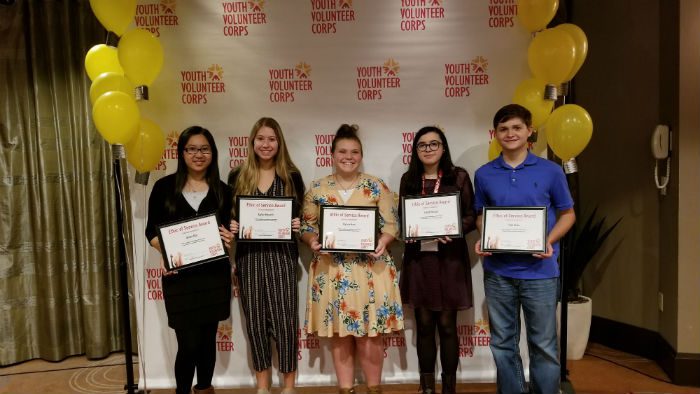 ​On Saturday, October 12, Youth Volunteer Corps celebrated the accomplishments of volunteers and leaders from across North America. This year, YVC's annual Summit focused on mental health workshops, diversity and inclusion training, service opportunities, and network accomplishments.
Of the 150 youth that were recognized with a 100-In-1 Award, for contributing 100 hours of service to their community in the span of one year, 37 were in attendance and recognized personally. Nineteen youth were honored with an Ethic of Service Award for completing at least 500 service hours in their volunteer career, six received World Changer Awards for serving at least 1,000. Jenny Wu, a dedicated youth volunteer from Calgary, AB, was awarded Youth Volunteer of the Year for completing 439.25 hours of meaningful service in one year.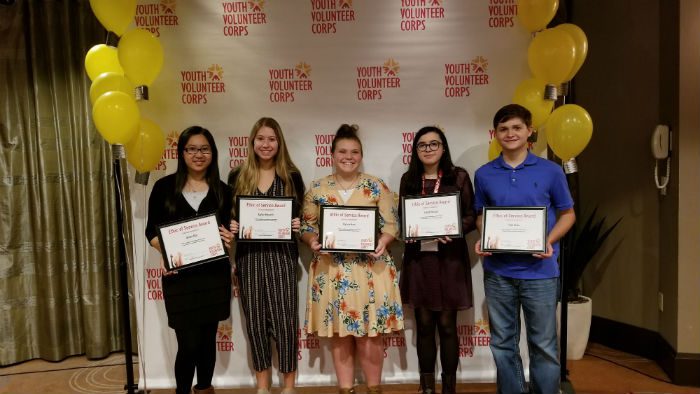 "Over the last three decades, I have watched Youth Volunteer Corps evolve. I am always in awe of the number of youth who serve and the number of hours they contribute," said David Battey, founder and president of YVC's headquarters, located in Kansas City. "We are pleased to have so many young people in our network and appreciate the support of affiliates in addressing community needs through service."
Two affiliates were recognized at the awards ceremony for program accomplishments: Baton Rouge, LA, as the New Affiliate of the Year, for engaging nearly 200 youth in more than 3,600 hours of service; and St. Joseph, MO, as the Affiliate of the Year, for consistently maintaining Gold Level status and having youth engagement skyrocket by more than 700%.
In addition, two individual awards were given to YVC leaders in the network. The Program Director of the Year was awarded to Katie Morgan from Hampton Roads, VA, for leading with authentic passion and genuine care. Chris Lassiter was given the first-ever Comeback Award for engaging 102 youth, a 750% increase from their previous year, and for youth service reaching 450 hours, a 1187% increase.
Each year, one project is selected as the Project of the Year. This year's winner exemplified youth leadership by identifying and addressing a very real need in their middle school. Youth volunteers in Reading, PA, launched a project to advocate for menstrual equity for their peers. Their project, which they call "Girls Supporting Girls. Period," works in various ways to address the problem locally and beyond.
Youth Volunteer Corps' mission is to create volunteer opportunities to address community needs and to inspire youth for a lifetime commitment to service. Affiliates engage youth ages 11-18 in projects that are challenging, rewarding, and educational. To date, YVC has 38 affiliates across North America and, each year, thousands of hours are served by youth volunteers who contribute to their communities and build life skills along the way.
Keep up with YVC news and subscribe!