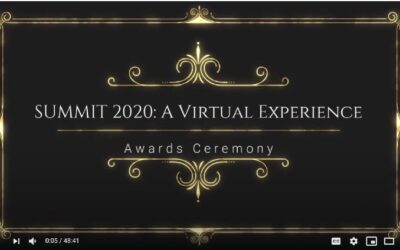 On October 16 & 17, 2020, the Youth Volunteer Corps network came together to learn and celebrate. This year, YVC's annual Summit, a network-wide conference went virtual. The conference included a full day of workshops and networking, a youth podcast, and a YouTube live Awards Ceremony.
"Over the last three decades, I have watched Youth Volunteer Corps evolve. I am always in awe of the number of youth who serve and the number of hours they contribute," said David Battey, founder and president of YVC's headquarters, located in Kansas City. "We are pleased to have so many young people in our network and appreciate the support of affiliates in addressing community needs through service."
During the Awards Ceremony, 75 youth were recognized with a 100-in-1 Award for contributing 100 hours of service to their community in the span of one year. Six youth were honored with an Ethic of Service Award for completing at least 500 service hours in their volunteer career. One volunteer, Audra from YVC Muskogee, OK, received the World Changer Award for serving at least 1,000 hours. Larry, a dedicated youth volunteer from YVC Baton Rouge, LA, was awarded Youth Volunteer of the Year for completing 302 hours of service in one year. Even with a pandemic, youth volunteers found ways to contribute to their communities.
Two affiliates were recognized for program accomplishments. New Affiliate of the Year, YVC Airdrie, AB, Canada, engaged nearly 40 youth in 760 hours of service. Affiliate of the Year, YVC Reading, PA, increased their total service hours by 28% and their youth volunteers by 54%. YVC Reading had some truly impactful projects this year. These included creating encouraging news segments called Some More Good News, hosting a Community Conversations for Change project that addresses racism and includes a community-wide pledge to Stand Together Against Racism, and building a 70-foot long wooden boardwalk through designated wetlands with an environmental learning center for their Big Build project.
In addition, two individual awards were given to YVC leaders in the network. Program Director of the Year was awarded to Sandy Anker, who oversees YVC in Joplin, MO, and Springfield, MO. Sandy exemplifies the qualities of a great YVC program director – she is creative, flexible, and is committed to youth service in her community. Brad Somers, from Alpena, MI, was awarded the YVC Champion Award. Brad's YVC is generally in the top 10 in the network for hours served, has one of only two youth who have received the Legacy Award for serving over 1,500 hours, and consistently has 40 or more average hours per youth.
This year, YVC also celebrated two project awards. Winning Virtual Project of the Year was YVC Calgary, in AB, Canada, for their ability to face COVID head on by adapting to various virtual projects. Their virtual projects would fill up within a week of being posted on the volunteer database and many youth signed up for multiple projects in a row. Youth connected with seniors to teach them how to use their devices over Zoom. Topics included Google Maps, adjusting phone settings, and general Q&A.
YVC Ann Arbor, MI, took home the honor of the In-Person Project of the Year award for their project focused on environmental equity and climate action. YVC participants worked with local Huron River Watershed Council (HRWC) to identify sources of water pollution and solutions to restore water quality. Co-led by HRWC college interns and YVC team leaders, YVC participants explored their river system using tools such as nets and snorkeling equipment for a hands-on, interactive experience. Through this shared-learning space, teens were able to gain a greater understanding of the impact pollution has on our water system and were inspired to take action to combat climate change.
Keep up with YVC news and subscribe!