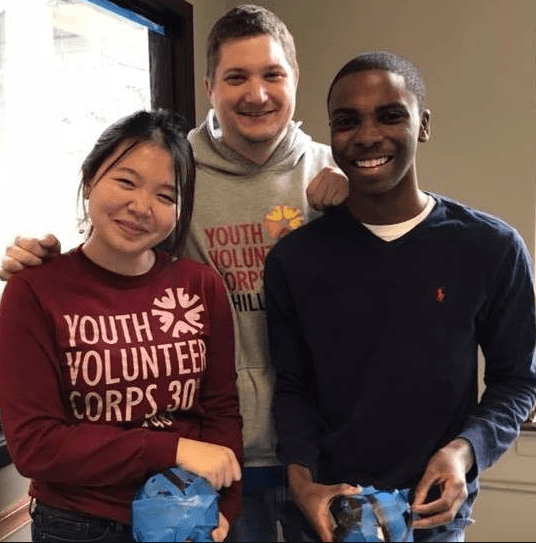 With the flutter of senior year and college applications, I was forced to sit down and evaluate the last four years of my high school career. I really reflected on my activities, especially, my experience with Youth Volunteer Corps.
Every time I thought about it, the memory of my first project was most clear. Images of cutting and folding papers to create pinwheels side by side with teenagers from across the city. Remembering the smiles and laughter of everyone and knowing that we were making a difference in the small conference at the local library. Then, I thought of the smiles of the elderly as I delivered their food the first time four years ago and the exchanges made between complete strangers while packing the food. I also remembered people who were not afraid to ruin their clothing going into the river to ensure all of the plastic was cleaned up from the waterways. And, I reflected on laying the final pieces of the Rosewood home floor in Houston, TX. The memory reminds me of everyone's proud faces.
It felt impossible to consolidate all of this into two hundred, three hundred, or any amount of words and honestly, I could not.
What I realized is that, firstly, I do not regret any of it. There were mornings that I wanted to sleep in but instead got up and volunteered, which only helped me grow as a person. There were even times that my mother insisted that I study more instead of volunteering. Through it all, I knew I was making a difference – even if it was a small one. I knew that the time could be spent putting a smile on someone's face. Secondly, I realized no one experience could capture all of what YVC means to me. Picking one story or event felt as if I was discrediting the others. YVC is a learning journey, to me, and you cannot have one story without the one that preceded it or followed it. YVC helped me grow as a person, leader, and member of the community.
Every hour with YVC brought me out of my shell and closer to the communities that surround me. Every minute allowed me to connect with people from across the city, and Northern America, that I would definitely not have met otherwise. Every second was spent with volunteers that were family, no matter if they were new or old.
Why do I volunteer? I volunteer to make an impact on the communities that have fostered my growth. I volunteer because I love it. I volunteer to help people.
---
My name is Jessica Jiang. I have been volunteering with YVC in Philadelphia since 2015. My hobbies include baking (especially when stressed), editing videos, messing around with technology and of course, volunteering. In college, I hope to major in computer science or engineering. I am very much not a morning person and tend to be more productive during night hours.
Keep up with YVC news and subscribe!