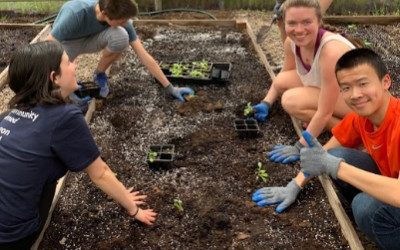 ​Volunteering has helped me become truly involved as a part of my community. Through Youth Volunteer Corps (YVC) I have become more involved in a variety of community organizations that range from helping from the environment to helping people in need. Being able to look at your community, understand what's going on, and see the impact you are making is one of the most rewarding feelings in the world.
The moment where I felt most connected to my community was when I was waiting for instructions from the volunteer coordinator at our local food bank and a woman approached me. She recognized me from past volunteer projects at one of our town's community gardens and she pointed out how amazing it was that I was able to see the work I was doing go impact those who needed it. It was this realization that made me think about how lucky and beneficial it is to be able to be involved in your own community.
Through YVC, I was introduced to Produce for the People. This is a garden that donates its produce to organizations such as the South Corvallis Food Bank. After volunteering with these groups, I became more involved working at the food bank regularly and growing food to donate there. I also spent time thinking of what other resources might be available to help this cause.
After being abandoned, my school's greenhouse was a complete disaster and since we didn't want to see the space wasted, I worked with a small group of students to transform it back into a functional greenhouse. Over the past year, we have been growing fresh produce to donate to the South Corvallis Foodbank. I love being able to bring the organic produce that we grow to the food bank because I feel that we are really contributing to our community. It's amazing to see the food that I have helped grow be handed to the people who need it.
Being able to work with different groups in my community has also helped me learn about the demographics and needs of my community. I am able to see the direct impact of my actions on the people and organizations where I live, which makes the work even more worthwhile. YVC introduced me to these programs and has helped me reach different corners of my own community which I may not have been able to do otherwise.
---
My name is Jessica Hovermale and I am a senior in high school in Corvallis, Oregon! This is my fifth year volunteering with Youth Volunteer Corps and my third year serving on the International Youth Advisory Board. I love volunteering throughout my community and I especially enjoy working with the Humane Society. I love animals and have two dogs at home. I am a president of our TEDx Club which puts on TED-style events and of our school environmental club. I also participate in Modern Dance and I love to travel!
Keep up with YVC news and subscribe!