The Unbreakable Bonds of Service and Food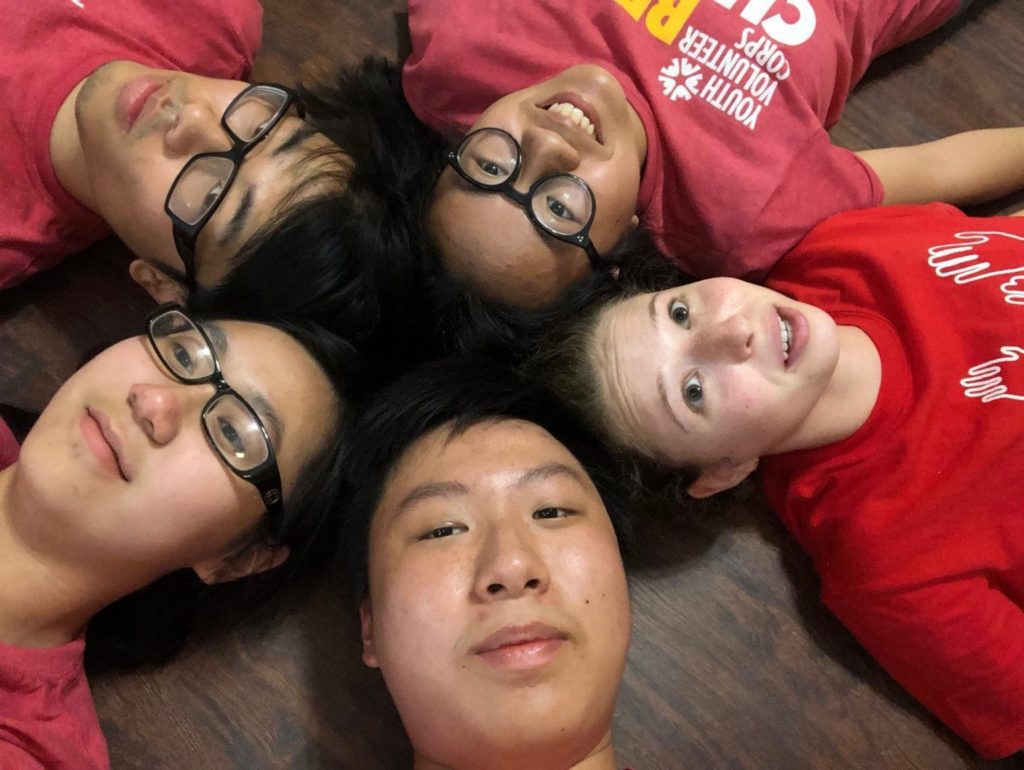 "What should be the last song we should sing in the van before we leave for the airport?" asked Becca. I heard someone in the back rows suggest Uptown Funk. She instantly loaded the song up on her phone and we heard the signature intro play through the van's speakers. All of us sung at the top of our lungs as we waited for Greg, our Youth Volunteer Corps (YVC) program director, to come back and hand the van's keys back to the rental place. 
The crew I got to sing carpool karaoke with at our service project in Houston, TX, was comprised of our program director, Greg, our Repair the World fellow, Becca, and volunteers Jessica, Winnie, Brian, Barry, Hannah, Celine, and Qinlan. Although it may seem that we have known each other for ages, I actually only knew Jessica, Winnie, Greg, and Celine from previous years with YVC. In the summer of 2017, if you asked me who Becca, Barry, Hannah, Qinlan, and Brian were, they would be complete strangers to me. This is our story.
In July of 2017, I was messaged by Greg, asking me to join the Youth Advisory Board of Greater Philadelphia and represent my high school. After consulting with Jessica and Winnie, who were already on the Board, I gladly accepted the invitation. During my first YAB meeting, I met Brian and Qinlan formally for the first time. I recognized Brian from YVC service projects, but I had not known much about either of them. After a couple of hours at the Repair the World Workshop discussing potential projects for the coming school year, we were finished with our meeting. At our next meeting, we were about to finish our conversations when Brian suggested, "Hey, I'm hungry. You guys want to go get food soon?" Everyone nodded.
As we got up to leave, Qinlan told us that she was going to Chinatown for food and anyone was welcome to come along. Brian smiled and exclaimed, "Let's go!" After some thought, I said, "Count me in." Winnie and Jessica had the same idea. That day, we all had a nice time eating bowls of pho and cups of rolled ice cream.
One month later, all four of us were in the middle of planning service projects when we unexpectedly heard a doorbell ring. Greg got up to get the door as the rest of us exchanged confused looks with each other. In walked a fit, young asian teenage boy with glasses and dressed in black clothes. Greg patted his back and he smiled. Greg announced, "Guys, I want you to meet Barry. He's a great volunteer from Furness High School and I invited him to join us as a new YAB member," He turned to Barry, "Barry, I want you to meet Brian, Jessica, Andy, Qinlan, and Winnie." We waved. In a low and tired voice, Barry waved and said hi to us. Sometime later, we all decided to take a lunch break. I pitched an idea of going to get sushi at a nearby sushi bar. Instantly, I heard Qinlan exclaim, "OOO…SUSHI! But isn't that expensive?" Jessica answered, "I've been there. It doesn't cost that much if you get their lunch special." Barry finally spoke his thoughts: "Mmm…you know what? Sushi sounds really good right now." A few minutes later, we found ourselves waiting on five lunch special orders of sushi. When we started eating, Barry was the first to finish his food when the rest of us were only halfway through. Brian said with a surprised look on his face, "Wow, that was fast. Wait…," Brian smiled and turned toward the rest of the group, "Hey guys, it's Barry Allen, the fastest man alive!" We chuckled. Barry was a little confused. "But my last name's not even Allen," he paused, "I'm hungry again."
By the end of August, we had a structured plan for the start of the 2017-2018 school year but had yet to start executing it. In the closing days of my 2017 summer, we were introduced to Becca. She would be working closely with Greg and the Board, making sure our plans were implemented properly. Although I didn't have summer to get to know Becca, our YAB meetings and YVC service projects really showed off who she was as a person. We clearly saw her passion for community service. Throughout my junior year of high school, I had a great time volunteering with Becca. She made sure every volunteer had a smile on their face during our projects and had great solutions to any planning problems the Board encountered. As the school year progressed, Becca helped YVC Philly developed into a much more structured system and never seemed to disappoint anyone.
A couple of weeks after the end of my junior year, I decided to go to drop by the Workshop to see if I could help out with planning the monthly service-learning units for the next school year. I knew Greg had brought on Jessica, Barry, Qinlan, and couple other people as interns to help with the process. Walking in, I recognized Jessica, Barry, and Qinlan working on their own laptops. Looking around the room, another person caught my eye. She happened to be the only one on a 2-in-1 laptop and a stylus pen. A few minutes later, I learned that her name was Hannah and that she was also one of Greg's interns. During our food break, Hannah pulled up a funny moments video of the TV series The Office, resulting all of us had a great laugh along with our meal. When I learned that she would be coming along for the Houston service trip, I knew I was going to have a great experience in Texas.
The YVC service trip to Houston, Texas was a project where our YVC partnered with Repair the World and the St. Bernard Parish to help provide disaster relief to the families affected by Hurricane Harvey. Despite the storm hitting the area one year before, there was still so much work to be done on the ground. Over the course of three days, our group worked to lay floorboards and tiled the floors of two affected homes. All of us worked our hardest and became covered in mosquito bites. I was grateful to be on this trip not only for the work we did, but also for bonding experiences I had with both old and new friends during the trip. One night, Becca decided to lead our group to a Texan BBQ restaurant for dinner. I remember Brian getting a nice meaty pork sandwich for his order and suggest that all of us get some root beer to go along with our meal. Qinlan got the same thing, but when she saw that the place had a self-serve tray of pickles she tried to fit as many as possible between the meat and the top bun. Barry had got a small mountain of meat and a loaded potato… but still wanted more. If someone was full but still had food leftover, Barry probably finished it for them. At our temporary home in Houston, I brought out the video game Just Dance and got Barry, Brian, and Hannah to dance with me. With every song played, the four of us laughed while showing off our moves – even if we were pretty sweaty afterward. At the end of the day, I enjoyed it when Becca would gather all of us up to have a group conversation. In addition to talking about our plan for the next day, it was a special moment for everyone to reflect on their experiences to others and for us to celebrate our achievements.
As I look back on this trip more than half a year later, I feel like the experience was more than just performing impactful service and having fun times with people I love – the disaster relief project was an encapsulation of all the personal progress I had made with YVC in the past year. I gain so much knowledge from being a YAB member, and I also gained some new friends. I am glad to say I have served alongside them. Without that year in my life, I would not have known things like Qinlan's affinity for pickles, Barry's constant hunger, Becca and Brian's passion to put smiles on the faces of those around them, or Hannah's peppy and positive attitude. It didn't matter if we knew each other for eleven months or for a few weeks, we were still able to sing karaoke together in that rental van.
---
Guest Post from Andy Chek
I am a proud member of YVC Philadelphia and have been volunteering with Youth Volunteer Corps since my freshman year of high school. I love meeting new people and I am not afraid to get out of my comfort zone. While I enjoy going for that morning run or playing a game of badminton, there's a chance you'll find me snuggled up in a corner binge watching TV shows like How I Met Your Mother. After high school, I hope to study engineering in college and to continue to help out my community through service.
Keep up with YVC news and subscribe!