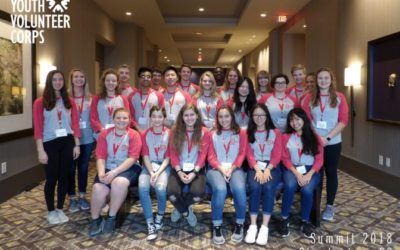 I stumbled across the International Youth Advisory Board (IYAB) Application one day online when I was looking at the Youth Volunteer Corps (YVC) social media. That summer had been a summer of me saying yes to more things, so I figured, why not try out something new? I had been volunteering with YVC for a few years and had served on the local Youth Advisory Board in Corvallis, Oregon, so I thought that IYAB would be an amazing opportunity to learn more about YVC. At the time that I applied, I never imagined how much being a part of the YVC network would shape many of the things I have done throughout high school. Being on IYAB has shown me what leadership in my own community really is.
YVC is one of the first organizations that I became involved with in high school and it opened my eyes to wanting to do more in my community. Getting this opportunity to be on IYAB made me realize how easy and beneficial it is to become involved in your own community. Over the years, I have become more active in my community with environmental groups, creating my own volunteer opportunities, and putting on community events. Being a part of IYAB and YVC helped show me how important being involved in one's community is. Being in a leadership role on IYAB has taught me a lot about connecting with people and being a leader. Through my experience with YVC and IYAB, I have become more connected to my community in understanding its needs and how it works. Leading, in this capacity, has made me feel more connected to the people around me.
Without getting leadership opportunities at such a young age I would not be the person I am today. Being on IYAB has made me more confident in trying things I wouldn't normally. Giving youth opportunities in leadership positions helps build initiative, responsibility, and confidence. At such an impressionable age, it is easy to learn and become connected to one's community through leadership opportunities. When I volunteer and work with YVC I feel like I am helping my community while also helping myself grow as a person. Being a leader is empowering others while also empowering yourself in what you are doing which is what Youth Volunteer Corps gives youth the chance to do.
---
My name is Jessica Hovermale and I attend Crescent Valley High School in Corvallis, Oregon. I've been participating in YVC for several years and I am also part of our local Youth Advisory Board. I love volunteering throughout the community and I especially enjoy working with the Humane Society. I love animals and have two dogs at home. I participate in Modern Dance and I love art! I am a president of a school environmental club and I am part of a TEDx Club where we host TED style events.
Keep up with YVC news and subscribe!