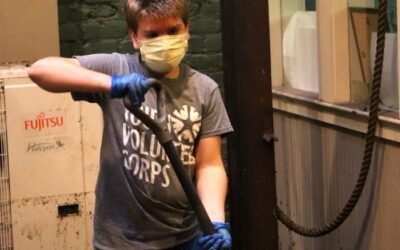 ​When a YVC community was recently faced with flooding, youth had the opportunity to take action and help their community heal.
On August 8, large parts of downtown Staunton flooded in historic fashion, causing an estimated three million dollars in damages. Typically, the Staunton-Augusta Family YMCA's Youth Volunteer Corps plans volunteer activities for students days or even weeks in advance. With a portion of the city's downtown knee-deep in water, however, the YVC program sprang into action immediately.
"It wouldn't make sense to be a volunteer organization and be absent when our city most needed volunteers," said Chris Lassiter, who oversees the YMCA's Youth Volunteer Corps program.
As part of the city's #StauntonStrong flood response, 18 YVC students volunteered over a five-day period, cleaning up for a total of 39.5 hours.
"Helping in downtown Staunton was important because I loved helping in a community where everyone had the same goal which was to help each other and to replace what was lost," said Jon, a rising high school freshman.
In a small city – Staunton is just over 24,000 in population, students also had personal connections with some of the business owners downtown. In that sense, it was friends helping friends.
"Cleaning up downtown was important to me," Wyatt said. "I know the people who own businesses and buildings and I know how devastating those can be because of the damage."
Volunteering is an opportunity to see a need and meet it head on. YVC Staunton is a great example of the impact a small group of people can have and the value of responding to a crisis with action.
Keep up with YVC news and subscribe!