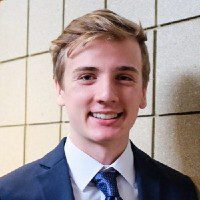 I think that many of us did not anticipate a pandemic, or know that it would be so serious for such a long time. We have gained a lot of perspective over the last year. In March 2020, we headed home from school for what we were told was going to be a two-week break. Boy, were we wrong.
We all felt bad for the Class of 2020, their senior year was "ruined." No senior prom, no proper graduation ceremony, all a recipe for an underwhelming end to millions of high school seniors' best year. Everyone felt terrible. But the Class of 2021 was certain to come back in the fall, to normalcy.
Boy, Were We Wrong Again
As the summer of 2020 went on, we began to notice that things were not changing for the better. I kept it in my head that things were going to become drastically better. That mindset is what made the reality ever more disappointing.
September came and our student body was split in half and tasked with going to school only two days a week, the rest is done online in the form of homework. Many students were failing. It's hard to say what caused this. I would say the change in pace left students feeling stuck.
Making It Work
For me, I made up my mind that I would do my work, online or not. I had both fewer and easier classes this year, so my workload was short. This does not mean that I was content with the way things were. What I missed most from the year before: interaction.
Times Are Hard
Immediately I learned there we would have no Homecoming, no Winterfest, no pep assemblies, etc. AKA: the events that hype up one's senior year. Now, it was just going to school, come home, homework. It's a pretty easy combination to quickly become tired of, which could easily be why many students were having a rough time.
Even Outside of School Was Different
Around the same time as all the changes in school, my Youth Volunteer Corps (YVC) had to make changes to the way we could volunteer. In my heart, I wanted to participate. But this year has thrown at me a new schedule surrounding a job, college classes, and with this new hybrid schedule, it was nearly impossible for me to make it to any projects. Life was so busy, but at the same time, it wasn't. I could barely find time to squeeze in schoolwork.
The amount of time it takes to do anything seemed to have increased. I know all these places are waiting eagerly for me to return. YVC understood that the demands on young people have shifted and they were always working to create opportunities where I could still participate. We all want to spend time together again.
It All Keeps Coming Back to Connection
I could do my work on time, but I would still close out my internet tabs with the feeling that something was missing. Interaction is the top feature that makes students enjoy school and other activities. We make friends from meeting them in our classes, during after-school projects, and while volunteering. Taking away the casual opportunity of seeing others makes everything different. It makes it feel "not right". The occasional banter between friends makes for bonding. But banter is hard when you are six feet apart wearing masks or behind screens at a virtual class – most of which are turned off.
Lessons In Gratitude
Dismal as it is, there is little to nothing we can do to fix it. Our priorities have to be put on hold currently. By the end of the year, things might be normal. But by then, the Class of 2021 will be long gone, onto college, jobs, whatever it is people do post-high school. Who knows what our future has for us, but we have to be grateful for whatever it is. If this pandemic has taught us anything, it has been a lesson of gratitude. It was hard to be grateful for stuff like hanging out with your buddies. But things like that are precious. Things like hanging with others is truly special.
---
About the Author
Brett is currently 17 years old and he is a volunteer from the Youth Volunteer Corps in Alpena, Michigan. Alpena is in the northeast area of Michigan's lower peninsula, sitting right on the edge of Thunder Bay, which is off of Lake Huron. He is going into his senior year of high school, and this is his third consecutive year as a member of IYAB. In the future, he hopes to go to college for architecture. He is very excited to see what this IYAB term has to bring and he is ready to face new challenges!
Keep up with YVC news and subscribe!