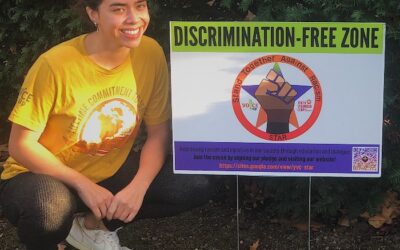 This past summer, even amidst the pandemic, I encountered a life-changing experience through a YVC project called "Community Conversations for Change (CCC)." This could not have come at a better time as our country was crying out, yearning for peace and justice for all. CCC lifted a weight off my shoulders as there was finally a safe place that encouraged youth to have necessary, challenging conversations regarding racism. Even with that initial excitement, I never expected this group to be so influential.
We had meetings twice a week during the month of July, and I can say with confidence, by the end of the first meeting we became a (virtual) family. Our goal was to address racism and injustice in our community through education and dialogue initiated, supported, and facilitated by youth! Our six sessions were Hear My Story; Educate Us; Dialogue with Police; Group Work; A Call to Action, Part 1; and A Call to Action, Part 2. By the end, we laughed and cried and were ready to put our knowledge into action.
With the help of our amazing adult advisors, we were ready to launch a platform that would serve our community in the same way CCC served us. This is when Stand Together Against Racism (S.T.A.R.) was born. We established a website for educational and informational resources; produced a pledge to commit to being actively anti-racist; and launched school groups that replicate the experience of CCC! My peers and I devoted the past six months to this project, but we never imagined what would happen next. Our pledge quickly swooped across the country, even reaching Germany, Scotland, England, and Canada. We gained support from our local news stations and presented at Vicki Clark's nationwide Conversation Series.
I tell my mom that I feel as though I have prescription glasses that allow me to see the world ten times more vibrant, meaningful, and fascinating. I will spend every day using these glasses to never stop learning, and to speak up for what I believe.
We invite everyone to take the pledge and make a commitment to Stand Together Against Racism.
---
My name is Morgan and I'm in the 12th grade at Wyomissing High School! My two main areas of interest are community service/outreach and music. These passions have led me to study Music Therapy in college in hopes of combining my love for music while simultaneously helping those around me!
Keep up with YVC news and subscribe!