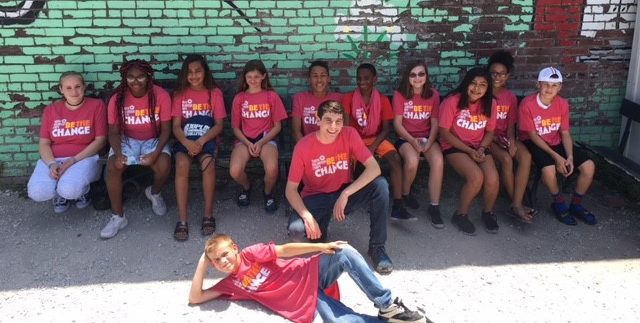 1. Program Directors Should Have Fun Volunteering Too
When I first applied for the job and interviewed, I didn't initially think about the fact this could be FUN! I figured it would be a job with the weight of responsibility that comes from ensuring 10-15 kids leave the project every day with the same number of fingers and toes they came with. While that brings pressure, there's also a whole other side to being a program director.
After the initial jitters of figuring out new responsibilities, I quickly realized the ages of youth that participate in Youth Volunteer Corps (YVC) are the best to just let go and have fun with. The diversity of ages in each volunteer group also makes for some fun laughs. It's been fun to watch the high schoolers laugh and make jokes with the middle schoolers, and vice versa. Once I started having more fun on a project myself, I noticed the youth on the project started to as well. They were excited about the morning ice breakers and couldn't wait to play energizing games throughout the day.
My favorite memory from last summer was when our volunteer group found two old wheelchairs at the mission we were serving. It was a scorching hot day and motivation was lacking. With the permission of the mission, we threw together a wheelchair race in the alley behind the building. The kids had a blast and cheered each other on as they competed to cross the finish line first.
2. The Most Successful Program Directors Will Be Flexible
The best quality a program director can have is flexibility! If you lack it, you'll quickly learn it. I learned that to best serve the organizations we worked with, I had to be flexible in the expectations of how the day should flow. Even if I put together a sheet with a detailed scheduled, things were surely bound to change.
Working with youth teaches you a lot about being flexible! You might think kids are showing up to work the whole day, but you'll soon realize an 11 or 12 year old may burn out! I had to adjust accordingly and throw in extra energizer games throughout the day to keep kids engaged. It might not have been in my plans, but it helped keep them going, which is what matters at the end of a fulfilling day.
3. Appreciation for the Non-Profits Where I Live
Since childhood I've always found opportunities to volunteer in my communities. Not only did it make me feel good that I was bettering the community in which I lived, but it also helped me appreciate the vital work put forth by non-profits. My experience as a program director for YVC reinvigorated those feelings once more.
I grew an appreciation for the people running these organizations as I was in daily contact with their directors. I saw firsthand the numerous hats these people wear since funding for more jobs is usually lacking. It was a joy to see the volunteers YVC provided for those four amazing days bless these organizations by completing projects they didn't have time to finish themselves.
4. Kids Grow When They Volunteer
Through my service as a program director, I've seen firsthand the personal growth that comes when youth volunteer. They grow in their compassion towards others, and gain the invaluable understanding of what it means to work hard.
One of the most powerful moments in my summer was when one of the girls expressed to the group that she loved finally feeling accepted and part of a team. She'd come from difficult life circumstances, evidenced by fear and nervousness written on her face that first day. The joy she expressed on her face by the end of the week was worth all the frustrations I'd experienced with that particularly energetic group of youth. Growth blossomed and YVC had watered the seed by proving her an opportunity to move beyond her comfort zone to serve others.
5. Youth Volunteers Corps is an Amazing Organization
As a fresh Missouri resident when I applied for the job of Joplin program director, I had never heard of YVC. On paper, it seemed an awesome idea – encouraging youths to invest in their communities by setting up volunteer opportunities specifically tailored to them.
The staff at the YVC headquarters are so passionate about what they do, and that passion quickly possessed me as well. They honestly do everything within their abilities to ensure volunteering is fun for the kids. This last year they had a special grant opportunity to provide T-shirts, water bottles, and other fun goodies. They are eager to invest in the future generations of our communities!
On top of that, the amount of support, team work, and encouragement I receive from the staff at YVC headquarters is phenomenal. I've felt a part of "the team" from day one. My opinions have been valued, my frustrations heard, and joys celebrated. YVC will forever be one of my favorite organizations!
---
Laura Noonan
Joplin Program Director
When not running YVC programs, Laura can be found substitute teaching and blogging.
Keep up with YVC news and subscribe!