2021 Don and Jean Sloan Youth Service Scholarship Recipient: KARLEIGH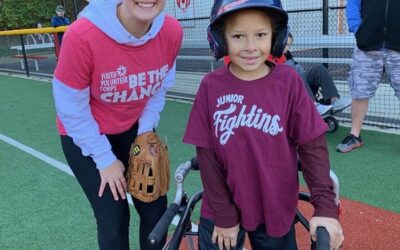 Karleigh, from YVC in Reading, has inspired us all through her actions. She was recently awarded the Don and Jean Sloan Youth Service Scholarship. This scholarship is awarded through Youth Volunteer Corps Headquarters. The $1,000 scholarship is open to active YVC volunteers who have demonstrated excellence in volunteerism and leadership and who are committed to making a difference in their communities.
Please enjoy her essay and be inspired with us.
Youth Volunteer Corps has provided me the opportunity to grow as a leader within my community, connect with others, and grow within my own skin as well. I have always had this passion for helping others, yet at times it seemed as though there wasn't necessarily a platform to have my voice heard or my impact felt by others. Youth Volunteer Corps at both the local and national level has given me that platform and I could not be more grateful for finding my affiliate during my high school years. Besides YVC and its influence, I would like to tell you how I first came upon my spark of a truly life-changing experience that involved putting others before myself, leading to my dedication to service that I passionately put forth now.
At the age of five, I found myself walking down an aisle at my local grocery store with my mom when I saw a boy who did not have any hair. It was then when I first learned about pediatric cancer and alopecia areata. While I still do not know to this day what condition that young boy was facing, I knew right then and there in the store that I wanted to do something to help. I marched home that day and decided that I was going to donate my hair to that boy. From that point on after donating twelve inches of hair, not only did I keep a short haircut, but I understood the indescribable feeling of knowing that I was able to positively impact someone else's life.
Although I have not experienced as many moments as big or as special as the time I donated my hair, I continued my journey of volunteering when I finally came across Youth Volunteer Corps. Beginning my junior year, I was selected to serve on the Youth Advisory Board of Berks County through Youth Volunteer Corps in Reading, VOiCEup Berks, and the Berks County Community Foundation. Through this amazing experience as a youth board member, I have gained endless skills in grant writing, reviewing, and presenting in front of professionals on a board through the Youth Philanthropy Fund that I have been given the opportunity to steward. In addition, I have also learned the value of service-learning. The act of learning through service has become such an important aspect of my love for volunteering. I get to help members of my community and local organizations, while I gain skills and a better understanding of the people around me. In addition to service-learning experiences, I also continue my local involvement on a daily basis. This semester, I serve as a volunteer-based intern for VOiCEup Berks and YVC Reading. In this role, I create websites such as www.yvc-star.org and www.yvc-canstructure.org, manage social media, contact sponsors and guest speakers for events, build platforms for youth voices to be heard through print and digital content, and continue to help wherever I can to allow youth in my community to see the importance of volunteerism.
I have been given countless opportunities to connect and become inspired by others. Service takes many forms, from playing baseball at DreamLeague with youth who are disabled, to holding genuine conversations with local homeless men as I served dinner at the Hope Rescue Mission, to painting the memorials for veterans in City Park in Reading, to teaching children the importance of literacy at a local Olivet Boys and Girls Club. The connections that I have made with the people that make my community what it is has influenced who I am and who I hope to become. I take their experiences, stories, thoughts, hopes, and dreams with me as I continue to serve and I work even harder to make a difference in the world. Additionally, this led to similar training and experiences through my involvement with the International Youth Advisory Board hosted by Youth Volunteer Headquarters where I serve with youth from across North America to make positive change, gain better understandings of one another from various parts of the continent, and impact our local YVC Affiliates as we continue to become stronger leaders together. Just the fact that I am able to interact and befriend other youth who are passionate about volunteering from across North America still amazes me to this day and I hope to keep in touch with each and every one of them once I head off to college.
While my opportunities to serve as a leader have been extensive throughout the course of my years in high school, there is one particular leadership opportunity that I cannot leave out. It is close to my heart and will continue to remain a large aspect of my life. This opportunity was brought about through my local YVC affiliate and has grown into a national movement. What I am talking about is my involvement as a Co-Founder, lead website and logo designer, and discussion leader of the national youth movement, Stand Together Against Racism (STAR).
STAR has given me countless opportunities to receive leadership training in the areas of addressing and educating about racism and social injustices. I have also learned about leading a restorative circle, presenting to youth and adults, speaking on national webinars, and how to use my voice as a youth leader, activist, artist, and changemaker. STAR reached students across Berks County through school club curriculums and has touched over 450 people from 22 states and five countries through the youth-written pledge on the website that I designed (www.yvc-star.org), as well as through national programming that I facilitate with my fellow youth co-founders. Just last week, we were able to connect youth from across the YVC network and local schools with a national interactive event, called Stand Up and Stand In for Social Justice. I can honestly say I have never experienced anything like it. Through Stand Together Against Racism, I have grown greatly as a leader myself, and I know that I am making a true impact on youth across North America. I am helping them to rise to their truest potential as leaders who are willing and able to stand up for causes that they believe in. STAR is only in its very beginnings. It has a far way to travel and it is a long way to the stars in the sky that we are striving for, yet with the skills I have learned and the poise I now use when I speak about difficult topics, I know we can get there.
For some, this might seem like an overwhelming amount of volunteerism, but for me, it has become a vital part of who I am. These opportunities and the amount of both formal and informal training that I am receiving through the kind acts of Youth Volunteer Corps are simply the tip of the iceberg. Although I am still a young woman growing to my fullest potential, I know that no matter where I go in life, I can only hope that my involvement can and will inspire other young leaders to find a path that they are as passionate about and follow it.
Keep up with YVC news and subscribe!